Perjovschi's habits of observation, honed by a decades-long career in the press, seized on the language of the pandemic early on. Documenting the world as it became consumed by Covid-19, the confusion of public health guidelines and mask-wearing policies, growing nationalism(s), and recent coverage of the political and epidemiological health of the USA, Perjovschi's drawings chart how rapidly our realities and unrealities are being supplanted. In his search for subjects in the news, lifted paywalls and social media groups have benefitted the artist's thoughtful snapshots of our collective global moment.
In conversation with Ariana Kalliga
In April, Space52, founded by Dionisis Christofilogiannis, announced an open call out of Athens, which resulted in a cartography of contemporary art and thought produced in quarantine. The exhibition gathered 445 international submissions, out of which 66 artworks were finally chosen. Romanian artist, Dan Perjovschi (b.1961), quickly submitted a selection of drawings from his series The Time of the Virus (2020), thematically spanning months of research and inquiry into the public and private arc of Covid-19. Perjovschi's decades-long practice of staging political drawings on the walls of museums and public surfaces, from The Museum of Modern Art's vertical atrium to the floors of the Venice Biennale, has been temporarily suspended. The artist recently sat down with us digitally to discuss his current work.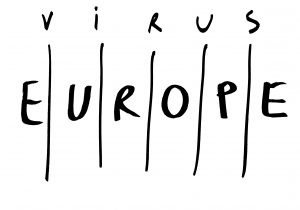 "Working from home was not new, " relates Perjovschi, who has worked as an illustrator for Romania's first independent weekly, Revista 22, since the early 1990s. The magazine was formed in the immediate aftermath of the Communist dictatorship in Romania, taking its name from the revolution's climax on December 22, 1989. It continues to this day, edited by a think tank of intellectuals and former regime dissidents, and regardless of where the artist is situated, Pejrovschi scans and sends them his weekly drawings.
When Romania announced its state of emergency, Perjovschi was setting up a show in Kunsthalle Wien. He began self-isolating as soon as he returned to his hometown of Sibiu, central Romania, on March 8th. In 2010, he and his partner Lia Perjovschi returned to the medieval city, building a home, archive and studio. Describing Sibiu as "a slower life with better cheese," they found it more sustainable than Bucharest and are closer to family.  At a time of online-first engagement, Perjovschi has launched himself vigorously into digital media participation. His recent drawings can be found illustrating philosopher Bruno Latour's much-discussed Versopolis article, What protective measures can you think of so we don't go back to the pre-crisis production model?, featured in MoMA's digital magazine, 'The Calvert Journal', and are arrayed chronologically as in a diary entry on the research platform L'internationale Online.
Perjovschi recounts the way he entered a "drawing frenzy" after commencing quarantine, remaining firmly in place for the first time since his international career took off in the early 1990s. Fellow artist Lia Perjovschi, on the other hand, "let things settle, and observed a more deep reflection and re-thinking." The coronavirus has not introduced fear into their lives. Rather, it brought back a feeling they have encountered at different cross-roads in their lives. "From the moment we became artists in a collapsed communist country, we had to adapt and adjust, " he explains. Artists operating under communist-rule had to figure out how to avoid censorship and create platforms of debate in which a limited freedom of expression could be reclaimed. "In the transition period from Dictatorship to Democracy, and from my local to my international career, we did the same, finding solutions and operating with a small or non-existing budget."
The Horizontal Newspaper, a 30 metre long public wall in Sibiu, has been replenished with Dan Perjovschi's drawings throughout the lockdown, delivering outtakes of current local and global news. Shedding light on the working processes behind his large-scale drawings, Perjovschi describes the rehearsal and extensive research he first undertakes on paper. "Before I visit a place, I gather drawings connected to it, in a small pocket notebook. When I am there, I look into what is going on globally and locally. It is my mini-studio." This comes as a surprise, as many have described Perjovschi's technique as off-the-cuff, forming a real-time event of spontaneous action. "Every text, every drawing, is researched for a long time and then rehearsed. There are no spontaneous drawings in my installations," Perjovschi underlines.
Perjovschi's preparatory method in quarantine has remained largely unchanged. The missing component from paper to wall is the stage of selectivity: "I usually draw a pool of drawings on paper, approximately 200 in my notebook out of which 50 end up on the wall. Now there was no selection. I posted everything!". Social media captivates him. Perjovschi is an active participant in a number of online activist groups, and managed to mobilize a small organization's social media accounts to form a community of monumental breadth and output during quarantine.
The Virus Diary Project at White Cuib
In April, Perjovschi was setting up a solo exhibition at White Cuib, an independent artist-run space in the city of Cluj, Romania. The space's name is a word play that ironically incites the white cube model: 'cuib' actually means nest in Romanian. Perjovschi began posting daily "comments" on the space's Facebook and Instagram accounts as the event turned online and, shortly after, invited other artists to join. George Roșu was the first artist Perjovschi invited to post drawings on White Cuib's pages. The two of them then invited Alina Andrei and Ana Kun in turn, whose drawings thoughtfully poke fun at domestic social norms. The 4 of them then spent a week posting 2-5 comments each day, eventually deciding to open up this 'game' to international artists.
Q+A
Dan P: Enter Aldo Gianotti from Wien, David Bohm from Prague, Oana Lohan from Paris, Cathy Burgy from Uruguay, Gloria Luca from Madrid, and Magdalena Pelmus from Bucharest. Another week passed. People from Jakarta, Bogota, Budapest and Berlin started coming. And with this opening, so did different genres of art, like video art, gifs and animations, objects and photography. Week 6 was so crazy that they invented a section called Special Guests. Posts became projects, one-off specials for the Diary from invited artists. More than 200 posts per week…we needed a schedule with every half hour from morning till night. The project stopped in its 9th week after Romania's state of emergency was lifted.
AK: Did you foresee this outcome?
Dan P: You see, I did not have a plan…What I did not realise and expect was that some artists I invited really needed something to regulate their life. Some thanked me afterwards. They had something to organise their life around. Other special guests were so happy and thankful to simply be invited – I asked Nedko Solakov and Adrian Paci, for example, as well as students and very young artists. It was not about fame. It was about diversity and complexity.
I remember inviting Raimar Stange, the curator from Berlin, who became my researcher of street art and street signs in Berlin… and poets like Simona Nastac in London or political science fellows like Caterina Preda in Austin, Texas… they all contributed. Coming from Communism, for me it is hard to imagine collective works. The Virus Diary was an attempt to do a collaborative platform with a constantly changing shape…  The term collective is charged, weighing from a context in which Pejrovschi, "had to fight for [his] own individual style and freedom." White Cuib's posts of the last two months showcase an endless feed of of hand-drawn illustrations and sketches in pen and pencil, alongside a smaller selection of other media, communicating in a playful and direct language alike Pejrovschi's own. While ostensibly operating as a collective shot of everyday life in quarantine, the feed reveals participants' privately-bound views from somewhere.  
AK: Can you say more about the geographic diversity of the participants?
Dan P: Grant programs, Erasmus, exhibitions, social media, cultural exchanges, and free circulation all contribute to "me" getting to know "you" better… but there are major differences we cannot overcome. If you have the money to educate yourself, or if you are in a village in a poor region in Romania, or from favelas in Bogota or in Manhattan New York…This is precisely why I wanted a diversity of geographic regions and of mediums central to this project, from video-art to line drawings, from Jakarta to Vienna, from student to Documenta artist… Poets to dancers, art theorists to documentary photographers.. amateur to highly skilled artists.
One of Perjovschi's drawings submitted to Space52, shows a museum reduced to a sign post held up by the sole figure of the director and the collection. Certain countries of the West, including Germany, have seen structured economic relief funds distributed to artists. In Southern and Eastern Europe, the arts are still waiting for a comprehensive system of support to address the widespread museum closures and job losses.
 AK: What kind of economic support exists in Romania right now? How are artist's practices being sustained?
 Dan P: The most affected was the independent scene. In Romania, the Government thinks of "independent" as somebody who manages by themselves. [Laughs] With Coronavirus, they have started to grasp how difficult and demanding the life of an independent art space, artist or curator is…  There was a Government effort to understand and help. Some individual grants were given directly to artists (bureaucracy was huge… but more or less it worked). The problem was with the artist run and private spaces… studio rents, gallery space rents etc. Also production budgets…There were some small state grants for online production. There were some private foundations or small grants from home residencies programs. But you know 6 people here and 10 there will not solve the entire art scene, no?
AK: What can you do from where you are standing?
Dan P: We have to take care of "we". What I can hope for is artists' solidarity. I have a home, I have some savings, therefore, I will not apply for state or private funds and I will decline budgets. Money should go to people and institutions who are left with no solutions. What I am saying here is that we have to take care of who "we" are. We were not prepared and not well organised. I do not have collective solutions, I have just mine and my partner. We will do what we can to help, to assist artists, artists projects and initiatives… The Virus Diary was one way… not asking for funds is another, and direct help is another.
AK: Your submitted drawing on Europe highlights fracture. Freedom of movement has benefitted your practice greatly following the entry of Romania into the EU in 2011. Is the Europe we knew being torn apart and what consequences would this have on your practice?
Dan P: Europe learns. First everybody shut down borders and went hiding in their national fortress. But soon, the asparagus is on the field and needs to be cared for by somebody. Over and under, lockdown travel begins… thousands of workers from East airlifted and transported to the fields of Germany, France, UK….You see, Europe is free movement. You cannot close down Europe. For me as an artist, not circulating freely will be a disaster. I know what it means when you are closed in your country and cannot travel anywhere, and I also know how it is to queue all night for a transit visa… and how it is to pay for it with half your monthly salary. I know how it is to have no email, no Google and no fax, and to arrange an exhibition by hand-written letters, which take 10-14 days to reach a destination.
AK: I was particularly struck by a recent drawing of yours published online: two characters are suffocating, one is crushed by the coronavirus, while the other references George Floyd's brutal suffocation under the knee of policeman Derek Chauvin, united by the words,  'I can't breathe'. Can you say more about this drawing?
Dan P: Both tragedies are about breathing, life and death. Both aggressors, the virus and the policeman, attack the act of breathing, life itself. The most exposed are the black community, the poor, the migrant, the no-citizen-no-paper, and they will suffer more… Remember Katrina and the big New Orleans stadium with the ones left behind? All black….   It is complicated to draw on these issues because the discussion got so ideological… I am not into the destroy capitalism bonanza, I am into the discussion of  how to preserve freedom and democracy in a liberal society with human rights and civil rights achieved…
Also, I am not in the US to see, read and talk first-hand. I don't know American history and I did not read the essential books. I have very fragmented information. What I can do from afar, is to extract something general from a very particular situation, or in this case a very particular position of the body. I was shocked… Some 2 years ago I did a drawing about I can't breathe because it was a similar case of a black guy who was killed. I cannot believe it.
Perjovschi remains critical of the left, while maintaining an active participation in leftist organizations and movements. His drawings take on global neoliberalism, stand in solidarity with recent protests against authoritarian governments and climate change, and shine the spotlight on the gaps in our international news coverage.
AK: How can we reframe and learn from the past ?
Dan P: The past is constantly changing because we gain more and more perspective… we also had access denied by the Dictatorship. The Securitate files (Romanian KGB) are now available for individuals and researchers to read. What is coming out of there is dramatic, and scary, but we have to face it. Complicity with the brutal regime was widespread.  In the 90s we pulled down the Lenin Statues… and forgot to de-Sovietize. We replaced statues 30 years ago. It is hard to tell my friends in the West that the Soviet Union, Lenin, Stalin, and yes Marx were our colonists… Hard to make them understand why I flinch seeing a Mao or Lenin T-shirt, or a sculpture of Lenin erected yesterday in Germany – or Belgium – I do not recall…
AK:  Can you share your final thoughts on the post-pandemic future?
Dan P: We have been in this together. What separated us was time and our social and political circumstances, those who wore masks, and those who didn't – those who had a home to go to and those who didn't. Now – looking at the protests – education has separated us more. We have been one continent and now we are in pieces. I think the global quarantine was quite an event and it will change our lives forever. We do not know how…we cannot yet imagine. But the shock will be felt many years from now.
__________
Learn more about: Q u a r a n t i n e   E x h i b i t i o n /  On the occasion of the Open Call during COVID-19 at Space52, Athens, Greece.