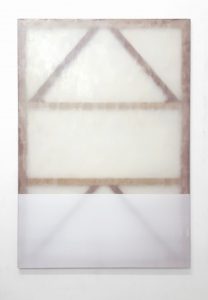 Dionisis Christofilogiannis:  I would like to ask you to talk briefly about your biography. How long have you been engaged in your practice?
Giorgos Kontis: I have been involved with the visual arts for almost 20 years, my main focus has always been painting and, more in particular, abstract forms of it. I started with the intention to thoroughly study what I had back then in my mind as the fundamentals of painting, meaning drawing and colour yet in a wider sense, and this was translated into endless hours of painting from a live model without though having the intention to do figurative or academic painting. My intention back then was a vague ambition of delving into the essence of my medium, what I now see as a rather romantic ambition, which at the same time was the beginning of what I regard as being now a central matter in my practice; an endeavor to deconstruct painting in both theory and the making of it.
After my studies at the Athens School of Fine Arts, during which I spend a semester at the AdBK in Munich and a semester at the UdK in Berlin, I went to the Netherlands for my MA studies. There, I started becoming interested in the question of Authenticity in painting and in how such a seemingly obsolete matter could be approached today. After that, I moved to Brussels and, eventually, to London where I am now completing my PhD at the Royal College of Art, in Painting, on the notion of Authenticity.
DC: Is your current PhD research related to this body of works? How was your experience of exhibiting in Athens the body of works you produced during your last months in London?
GK: The question regarding the relationship between research and studio practice is a quite challenging one as the way one answers it eventually forms their research outcome and becomes more than a plain matter of method. In my case, I regard theory and practice being in a reciprocal relationship with each other and eventually becoming one in the sense that they affect, inform, and create questions to each other, standing on or forming a common ground. What I have tried to avoid was to conduct a more or less theoretical research and then 'translate' it into painting or artworks in general, this would seem to me too detached, rendering my paintings into being a visualization of my theoretical investigations, and this is something I was never interested in. On the contrary, I am interested in how things become one, without yet being something specific or an answer to a certain question, but a unity on a loose base that generates meaning -if it generates any meaning- in its own way. In short, I would say that the works I am exhibiting at Crux stem from my research but don't necessarily form any answer to questions regarding matters of authenticity. This all occurs on a poetic basis and with a sense of an ellipsis, seeking a rationale that takes place in the sensory and in seeing.
At the same time, such matters relate all to my personal prism or to myself as an individual, to the way my thinking functions and becomes informed, and to the trajectory of my life a significant part of which has taken place and still relates to Athens. Despite my opinion that one lives today in the global village (perhaps glocal is a more favourite term of mine, combining global and local), the fact that I would after many years have a solo presentation of my work in Athens imbued it with an extra significance. This is also how the title Mother Tongue came about.
DC: What is your view from the front? Do you have specific projects or goals that you are looking for?

GK: I recently completed the writing of my dissertation and I am currently enjoying having a bit more time to spend in the studio. There are several plans and ideas and I am not sure what exactly will be realised but the feedback I have been receiving for the recent body of works has been fantastic and very exciting, I would certainly love to exhibit more in Athens and be a part of its vibrant art scene. The sculptures and objects are a recent addition to my practice as I am working with them for the past couple of years and is something I can see myself being occupied with in the near future. Writing has a similar role as due to the PhD research I have been fascinated by it and have tried to evolve a personal way of writing that is poetic and relates to philosophy, the possibility of a publication is hence also one of my future plans.
/////
Mother Tongue
curated by Katerina Nikou
Solo show
Oct 17 – Nov 23, 2019
Crux Gallery, Athens