Maria Luigia Gioffrè (b. 1990), is an Italian artist living between Milan and London. Following her studies in law, she completed her photography diploma at Istituto Superiore di Fotografia in Rome and graduated from Central Saint Martins in London in 2017. She won the Celeste Prize in 2017, and took part in the residency "On Death and Dying" at Tenuta dello Scompiglio in Italy in 2018.  Some of her recent shows include the Tate Modern Exchange, Venice Performance Art Week, Grizedale Sculpture, Marca Museo delle Arti, Fondazione Sassi. She is the founder and co-curator of the residency program In-Ruins, a project and residency placing archaeological sites in conversation with contemporary art. In October 2020, we sat down virtually to discuss the artist's present preoccupations, her development of the 'in-ruins' project, and her future plans.
Ariana Kalliga: Can you tell me a little bit about your background in your own words?
Maria Luigia Gioffrè: My background of work is a sense of loss and playfulness, which functions as a personal beacon that I attempt to translate into universal contents. My academic background is in law and I only later approached fine arts studies at university, I did research in visual arts and in theatre and my practice is therefore contaminated by different media: writing, drawing, performance, theatre, installation. I consider structures in art as important for achieving a way of "worlding" that is not too privately oriented. For instance, I started making paintings six years ago, which were moved merely by the desire of a postal correspondence with my ex partner but, by setting them into the codes of an art practice, they do not exclusively constitute a letter for an addressee, and liberate me from the burden of the I or the making up of a solipsistic scenario. I think structuring your own work may be the most deep lesson that art school can teach today.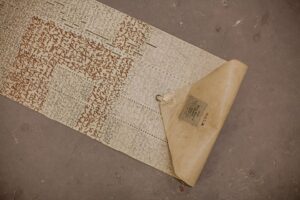 AK: What are some of the key themes you engage with in your practice?
MLG: I mainly care about creating images that can assume different scenarios. I do not follow a political aim in making art but often, nevertheless myself, the works end up staging landscapes of infertility. I do use repetition, especially in performance but in drawing as well, as a tool of composition for durational pieces: they are a sort of a prayer of the desiring body which, by repeating the same action, opens itself up to a diachronic time, indeed the time of the liturgy.
AK: You run a residency program in ancient archaeological sites called 'In Ruins'. How has this project evolved until now?
MLG: In-Ruins is a project of research inquiring into the dynamics of archaeology in relation to contemporary art. It focuses on creating spaces for discussion, in an attempt to remap archaeological ruins within new, multiple, changing contemporary landscapes. The residence program, hosted by Scolacium Archaeological Park, started in 2018 as a fruit of a collaboration between me, Azzurra Pitruzzella and Elisa Constantini with the Foundation Armonie d'Arte and Mibac Ministry of cultural heritage in Italy. After a first round of residencies with nine Italian and international artists, realized almost without a budget, we recently secured funding and we are working on expanding the entire activity in 2021. The schedule is however very delayed, both due to the pandemic and because of the bureaucracy of the funding's release.
AK: You won the Celeste Prize in 2017 for your work 'Penelope's White Wall'. Can you speak about this performance?
MLG: What I feel is missing today is fairytales. Since the XXI century has come, mankind has been more and more engaged with science and even art is starting to deal with data-analysis or with algorithms. Planets and galaxies have been observed and calculated, Gods and Goddesses have fallen apart. Neptune does not scare inhabitants of the sea and Jupiter is visible from the telescope: the magic is somehow sacrificed for a hint of knowledge. This is not good or bad but, within this context, "Penelope's white wall" might therefore be read as an attempt to stage a fairytale. In particular, the story reinterprets the character of Penelope, wife of Ulysses, king of Ithaca, as described in Homer's Odyssey.
Ulysses leaves the house for twenty years and already after a few years, everyone starts to think he died. Suitors begin to enter the house of the queen, asking her hand in marriage. Nevertheless, Penelope, trustful in the return of Ulysses, wouldn't choose anyone to marry. For years, she had been weaving a shroud, promising to choose a new husband once that shroud was completed but if by the day she was working on a loom, during night she secretly was unraveling what she did during the day. In "Penelope's white wall", we see Penelope painting a wall which does not dry because she paints and re-paints it.
The unfinished wall allows Ulysses, traveller and migrant, to be free to go back and forward from the house without restrictions. However, once "Penelope's white wall" is installed in a gallery-space, we might say it takes on a different relevance. In the gallery space indeed the audience experience the ambivalence of the artwork: is the wall being prepared to hang artworks or is this action of painting the work itself? By this way, "Penelope's white wall" highlights the backstage, rather than the on stage activity, on the process rather than on finished pieces. In any case, more than all of what I explained about the piece, the performance finds its roots in a childhood memory: a day when I was about nine years old and my parents were out of home, I took a bucket of colors and I painted my room just for fun.
AK: You recently exhibited in your solo show at Marca Museo delle Arti, Fondazione Rocco Guglielmo, Catanzaro. How was the experience of exhibiting in your hometown, and are more activities around contemporary art being developed in Calabria?
MLG: Southern Italy provides rural landscapes, but there is not so much of a contemporary art world there. This allowed me to connect with the truth and the roots of my processes and making, with motherhood. The territory is full of insights, rituality and traditions, still very strong and present among local communities in Calabria. This may be a treasure when encoded into art.
AK: What are some of your concerns of the current moment?
MLG: Covid-19 is revolutionising the grammatic of bodies and the social asset, particularly in global cities, where at least in last fifty years socialising has been mainly based on disengaged gathering and where, now, every meeting you do is an act of commitment of test track and trace, a sort of nasopharyngeal intimacy. This obviously also affects contemporary art, which is more active in cities in terms of its fruition. The situation forces us to rethink radically all the assumptions taken for granted by the art system. It's an interesting time, as Venice Art Biennale claimed prophetically in 2019. The uncertainty linked to this historical moment is a deep concern and a challenging one, as every revolutionary moment in history.
AK: Any upcoming projects?
MLG: I am now working on a collective performance and an archive linked to the Mediterranean. It is hard to make plans today due to the fact that mobility and travel rights are updated almost every week by local governments, but it should be developed in three locations and part of it should take place in Athens, Greece in October 2021.